Product Name: DHG High-speed Electric Chain Hoist
  Product Category: Electric Hoist
  Product Description: Yudiao DHG High-speed Electric Chain Hoist is designed with advanced technology in reasonable price and thought highly of by our clients. It meets the users' needs of speed with high efficiency and shortened working time.
  24 hours hotline: +86 189-0312-1217
  Features of DHG High-speed Electric Chain Hoist (Hook Type)
  1.Double brake system, more secure and reliable.
  2.Efficient, lightweight motor, non-asbestos brake system, low power consumption.
  3.Steel stamped shell,lightweight and strong, anti-rust, anti-corrosion, lengthened service life.
  4.Canvas bag,lightweight, beautiful and durable, easy to store chain.
  5.It will automatically stop running when the object touches the limit switch device which prevent the chain falling out.
  Technical Parameters: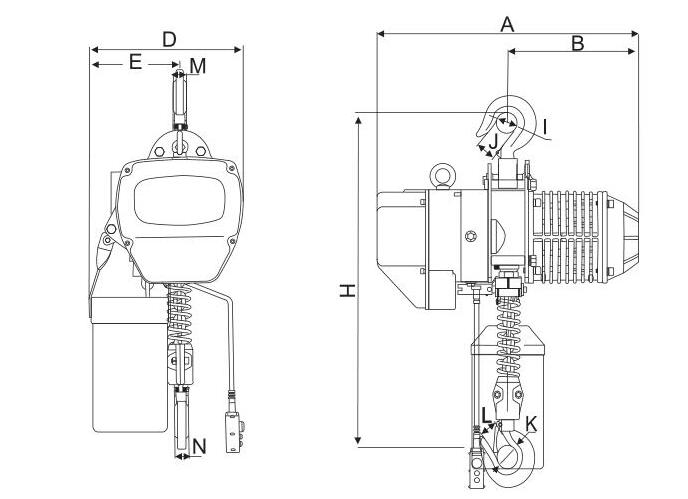 Precautions :
  1.It is strictly prohibited to be overloaded.
  2.It is prohibited to be pulled slantingly or horizontally. And there shall not be any person staying under or walking around below the lifted objects.
  3.The lifting work should be stopped immediately and when the hoist stops running, or making abnormal noise. And the objects should be unloaded.
  4.Refueling the hoist once a week if use it frequently and doing it once a month if use it continously.
  5.Heating or knocking the hoist is strictly prohibited. The hoist should be set where there is dry and ventilated.
  6.There should be a professional personnel in charge of the maintenance of the hoist and the guidance of the use, and the product manual should be read carefully before the use.
  7.Before use, the power should be checked whether to meet the requirements, and the operation should be done according to electrical specifications.
  8.Before use, the braking should be checked if it is reliable, and the components should be checked to make sure there is no the abnormal phenomena of loose and oil leaking.
  9.Check whether the sprocket and the chain is normal to prevent chain heaping.
  We can also provide our customers with products according to the samples and design drawings sent to us to meet their different needs. We adhere to the principle of science and technology is the primary productive force and strictly follow out the quality standards the entire process from the procurement of raw materials to the transport of goods. 100% passing rate is our goal in order to ensure high quality goods.