Product Name: Mini Electric Hoist With Trolley
  Product Category: Electric Hoist
  Product Description: Micro Electric Hoist is also known as household electric hoist, can be used with trolley to run around. The length of wire rope is 12 meters(the length can be tailor made.) It is used especially for lifting heavy items at high-rise buildings. It has simple structure, small volume, and can be installed easily with 220V single-phase power as a power source. 24 hours hotline: +86 189-0312 -1217.
  Features of Mini Electric hoist
  1.Micro-electric hoist is smart and easy to use.
  2.The motor will stop working automatically when the object reaches the limited device.
  3.When the wire rope reversely lifts objects, the motor will stop working immediately.
  4.Hoist hook is designed into two states: dynamic loading and static loading.
  5. Home use 220 or 110 Voltage.
  6.360 degree rotation hook to prevent the rotation of wire rope.
  Technical Parameters: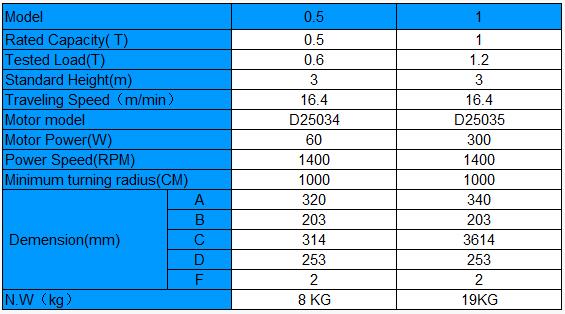 Precautions:
  (1)Inspection is needed before work.
  (2)Lifting objects by side and overloading is not allowed.
  (3)The operator should check regularly to make sure that the wire rope is not curved, kinked, dropped off or worn out and the guide rope and limit switch is reliable, and any problem should be solved out immediately.
  (4)During the operation,it is not allowed to use the limit device to stop lifting.
  (5)Turn off the switch and cut off the power when the work finished.
  (6)There should be a person in charge of the maintenance of the electric hoist and inspecting the function and security status of the hoist once a week. If there is anything wrong, it should be remedied in time.
  We can also provide our customers with products according to the samples and design drawings sent to us to meet their different needs. We adhere to the principle of science and technology is the primary productive force and strictly follow out the quality standards the entire process from the procurement of raw materials to the transport of goods. 100% passing rate is our goal in order to ensure high quality goods.