The name of product:CD,MD wire rope electric hoist
  The type of product:electric hoist
  Product description:The CD ,MD wire rope hoist has been widely used in many fields, such as workshop, dock, power plant, freight station and so on. CD wire rope electric hoist for single speed operation, MD wire rope electric hoist for two speed operation, can meet the needs of users of different conditions.

  The specification of product:
  1. Reducer:The reducer is three-step speed reducing .Gears and shaft are all made of heat treatment alloy steel. Gearbox and cover are made of cast iron reliable sealing.Reducer part is extreemely, easy to load and unload
  2. Control Box : it can cut off the power in the case of emergency with a shoke of lifting up and down to ensure safety in the operation
  3. Wire rope: used GB1102-71(6*37+1)type wire rope, which is reliable.
  4. Cone-shaped motor:Lifting motor used torque induction motor with 25% continuous load rate,insulation rank is F, protect rank is IP54/IP55
  5. Button switch: Hand switch is light and clever,there are two types of handling rope manipulation and wireless remote control.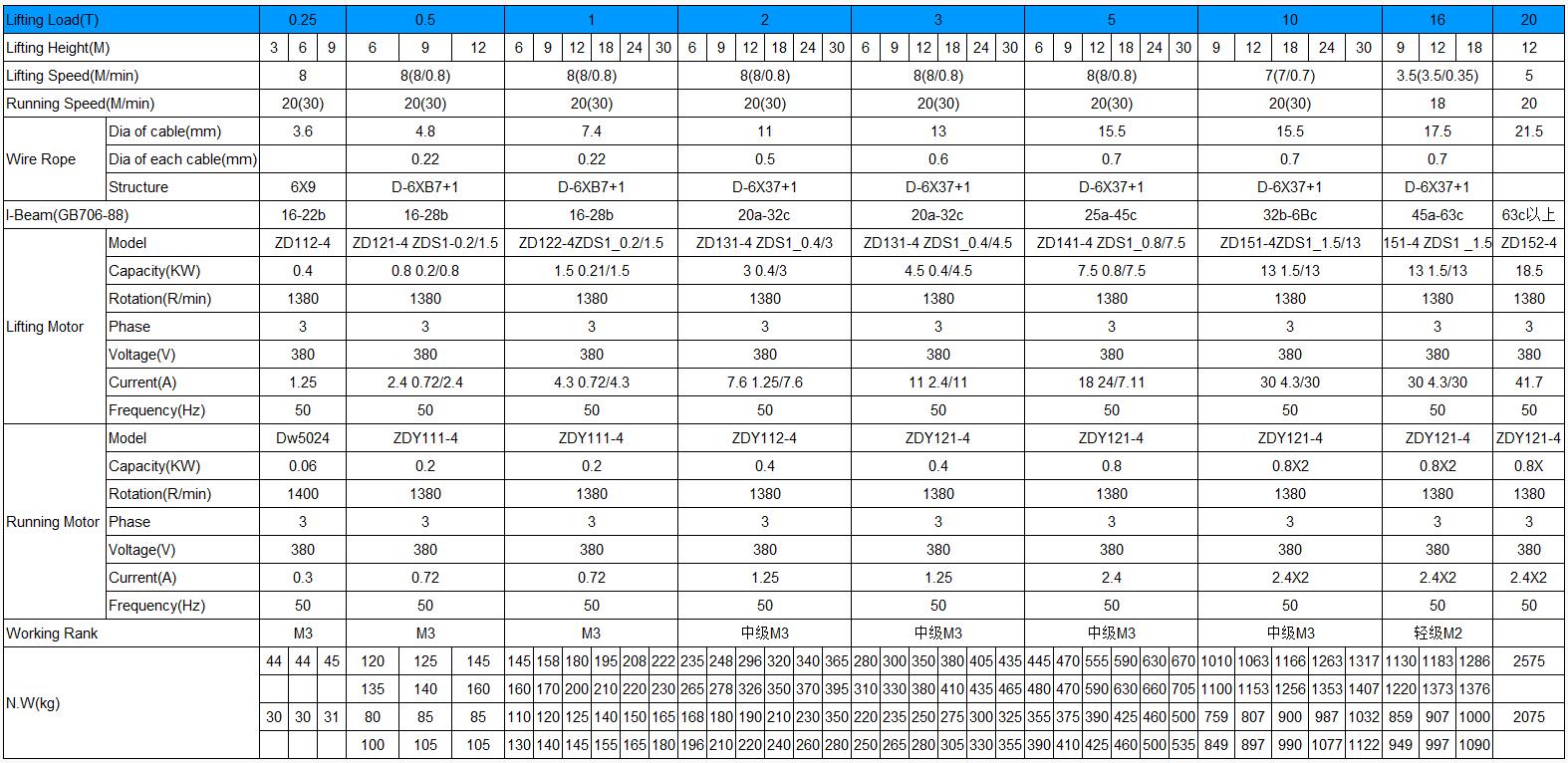 Usage rules:
  1. Strictly prohibit the use of overload
  2. No cable pull, personnel under the weight or stay near walking, lifting is prohibited
  3. Found in the work of the gourd is not rotating or abnormal sound should be immediately shut down, and then uninstall inspection.
  4. Frequent use, once a week, continue to use, once a month.
  5. No collision, knock hoist, storage should be dry, ventilated.
  6. The maintenance of this product should be carried out by professional personnel, should be under the guidance of a certain knowledge of mechanical and electrical professionals under the guidance of the use of products should be carefully read the instructions.
  7. Before use must check whether the power supply meets the requirements, and according to the electrician standard operation, check the correct and can run.
  8. Before use must check whether the brake is reliable, regularly check the parts are normal, should not loose, oil spills and other phenomena.
  9. Check whether the sprocket and the chain are engaged in normal operation.
  Our company can also produce a variety of non-standard products with samples and design drawings of customers, to meet the different needs of customers. We adhere to the principle that science and technology are the primary productive forces and strictly follow the quality standards, from the purchase of raw materials to the entire process of transport of goods are strictly controlled. Our goal is to achieve the product qualification rate of 100%, ensure high quality of products.