The name of product: PDB single plate lifting clamp
  The type of product: Plate clamp
  Product description:PDB type single plate lifting clamp produced by Yudiao is suitable for horizontal lifting of steel plate, factory direct selling, higher discount, quality guarantee.All products of Yudiao are guaranteed by People's Insurance Company of China PICC, please rest assured to buy.
  24 hours free hotline: 86 18903121217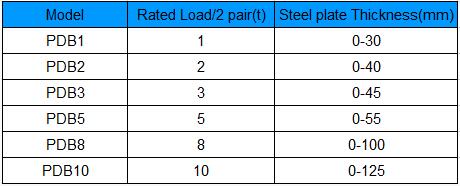 The specification of product:
  1. Suitable for horizontal lifting of steel plate.
  2. Made of Shougang low carbon alloy steel.
  3. Load range: 0-10 tons.
  4. With two experiments as the rated load, two or four supports are used in hoisting operations, and the balance beam is used when the steel plate is larger.
  5. During the lifting process, the suspended object can not be collided, and overloading is strictly prohibited.
  6. Test load = rated load x2.
  7. With spring lock and no working condition, the lock is tightened up naturally, and the clamping force of the object is increased in proportion.
  8. Durable and easy to operate.
  Our company can also produce a variety of non-standard products with samples and design drawings of customers, to meet the different needs of customers. We adhere to the principle that science and technology are the primary productive forces and strictly follow the quality standards, from the purchase of raw materials to the entire process of transport of goods are strictly controlled. Our goal is to achieve the product qualification rate of 100%, ensure high quality of products.